The History of the Delco-Remy Division (DR)
Keeping the Memory Alive!
Start it, Light it, Ignite it! (SLI)

This page updated 9-15-2020.
Updates as of 6-8-2021
Components for Military Tanks and Armored Vehicles in World War Two Products

Updates as of 2-1-2021
Military Components for Aircraft in World War Two Products

Updates as of 12-24-2020
Components for Military Trucks and Tractors in World War Two Products
New Addition as of 12-7-2020
Training Manuals for World War Two Aircraft Batteries, Carbon Pile Regulators, and Generators in World War Two Products

Updates as of 12-4-2020
World War Two Document page on Supercharging Blowers updates with new photos
Updates as of 12-2-2020
Components for Military Tanks and Armored Vehicles in World War Two Products

Updates as of 11-19-2020
The Bosch Magneto Project in World War Two Documents
Military Components for Aircraft in World War Two Products

New Addition and Update as of 11-18-2020
Moments in Time updated with new information and photos with "1918 World War One" added.
Delco-Remy Electrical Components for the Reo and Federal Truck, 20-Ton, 6x4 in World War Two Products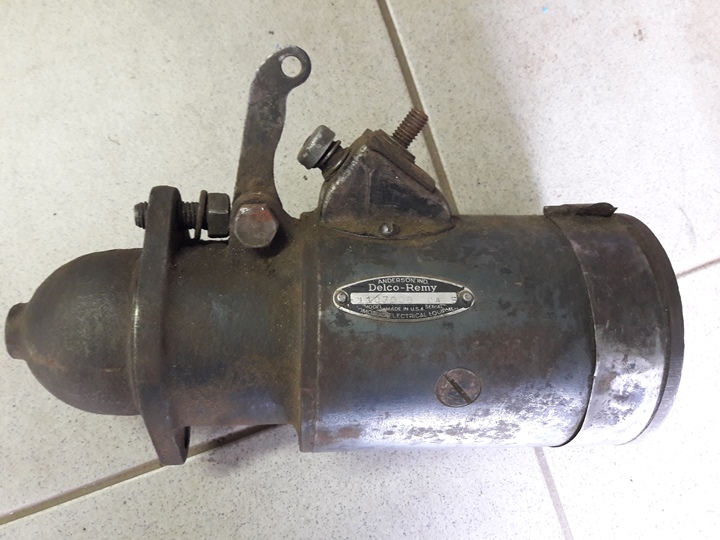 How cool is this? Karel Freibauer from the Czech Republic recently sent me the above photo of this Delco-Remy cranking motor. Karel found it underneath the floor of his house as he was doing a remodeling job. The motor is model number 1107009, which was used by the U.S. Army during World War Two. However, Karel has advised me that American forces were not in his section of the Czech Republic during or after World War Two. However, the Germans and the Russians both were. This could have come off of an American vehicle that the Germans had captured during the war. Contrary to the popular myth, the Germans were not that highly mechanized during World War Two and used mostly horses during the war to move their supplies. Most of their vehicles were stolen from their owners in occupied countries, or were captured in battle. At the same time, the Russians used a lot of American -built vehicles provided under Lend-Lease. Karel and I have come to the conclusion that one of these vehicles, with this cranking motor, broke down and was abandoned. Karel believes his grandfather, for some unknown reason, took this Delco-Remy starter off the vehicle and hid it under the floorboards of his house.
Karel hooked this 80-year old cranking motor to a battery, and it worked! Of course it did. It was built by Delco-Remy.

Photo and information courtesy of Karel Freibauer added 5-5-2020.
Seventy-seven years after the 902 cranking motor shown below was built, it finally had to be re-wound in 2020. The 902 is the same motor that was used to start the 900 hp diesel engines on the LSTs during World War Two and is featured on my "LST 393 and Delco-Remy" page.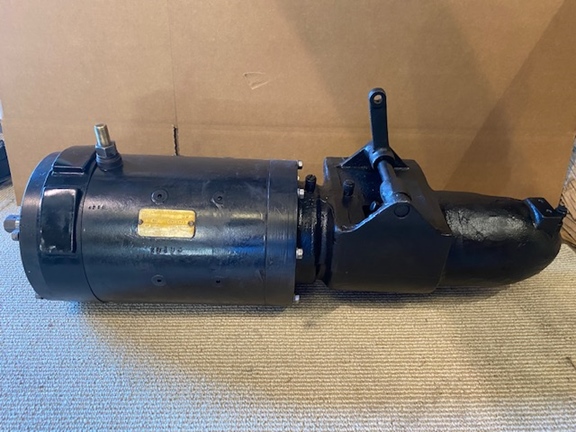 It is difficult to realize the size of the cranking motor from this photo, but it is over two feet long. This photo is after it was returned from rebuild. Photo courtesy of Brooks Adams added 9-2-2020.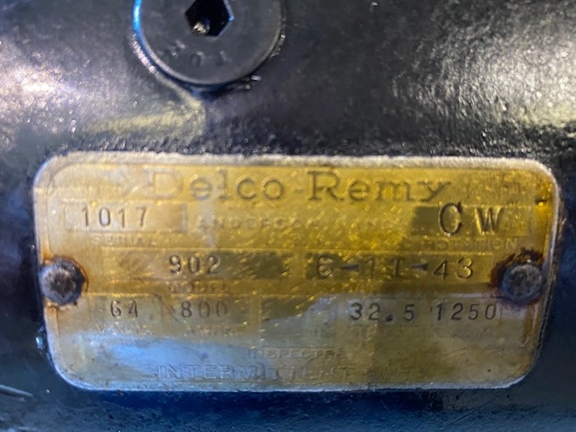 Photo courtesy of Brooks Adams added 9-2-2020.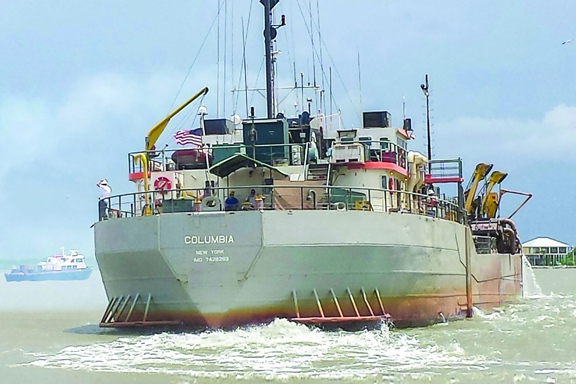 The Delco-Remy 902 cranking motor is used to start a generator on the 330-foot dredger ship "Columbia." Photo courtesy of Dutra Group added 9-2-2020.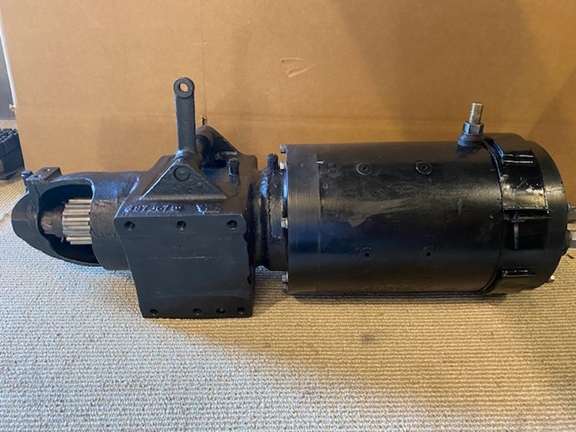 This shows the other side of the motor. Photo courtesy of Brooks Adams added 9-2-2020.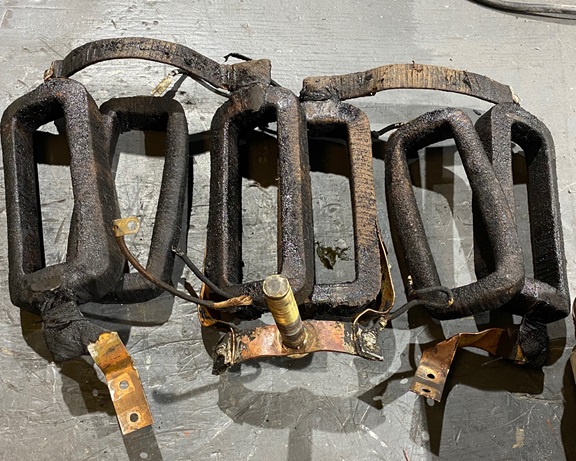 The motor had to be sent to a special re-winder because this type of field coil insulation is no longer used. I am surprised that a motor this old can still be rewound. This looks like it was wound with a kraft electrical paper. If this the first time the field coils had to be rewound, they lasted a long time. Photo courtesy of Brooks Adams added 9-2-2020.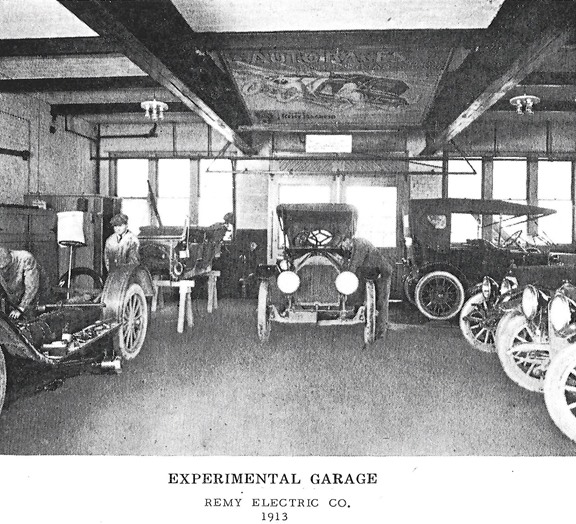 How cool is this 1913 photo of the Remy Electric Company experimental garage? In the far left corner the body has been pulled off the car chassis in front of it. There is a technician working on the chassis, and his tools are located on the running board. On the ceiling is an auto race sign with "Remy Magneto" along the bottom. It appears that Remy Electric was displaying this sign at auto races of the period. The company could very well have been distributing literature and selling components to the racers and the fans at these events. Or the sign could have been a carry-over from before 1911 when the Remy Brothers sold the business to Stoughton Fletcher. The garage was most likely on the ground floor of what later became the Plant One school rooms. Photo added 3-26-2019. Photo courtesy of Tom George.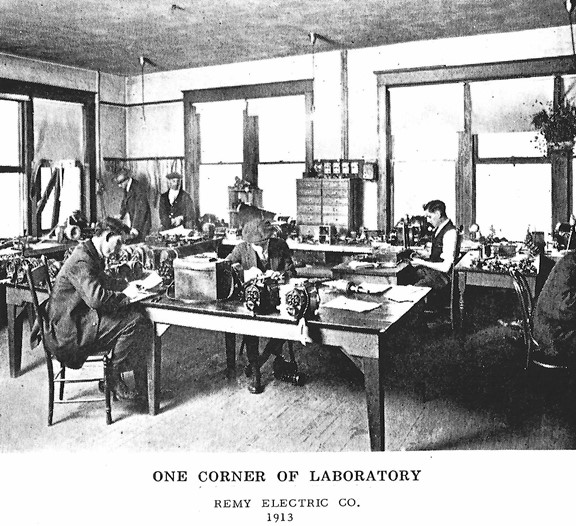 The Remy Electric engineering lab in the Plant One school room building. Photo added 3-26-2019. Photo courtesy of Tom George.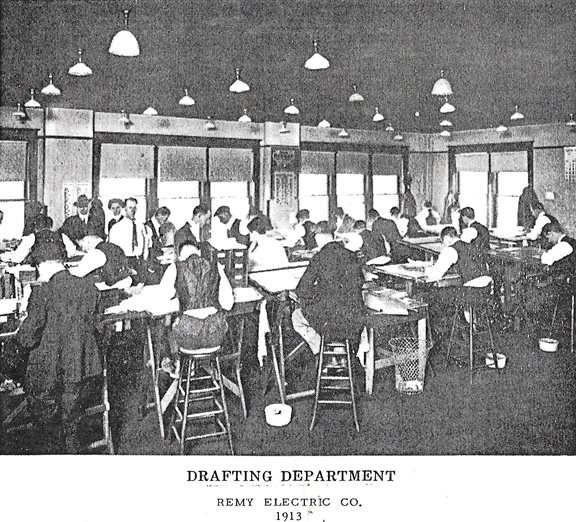 The Remy Electric drafting department in the Plant One school room building. Three spittoons can be seen. A sign of the times. Photo added 3-26-2019. Photo courtesy of Tom George.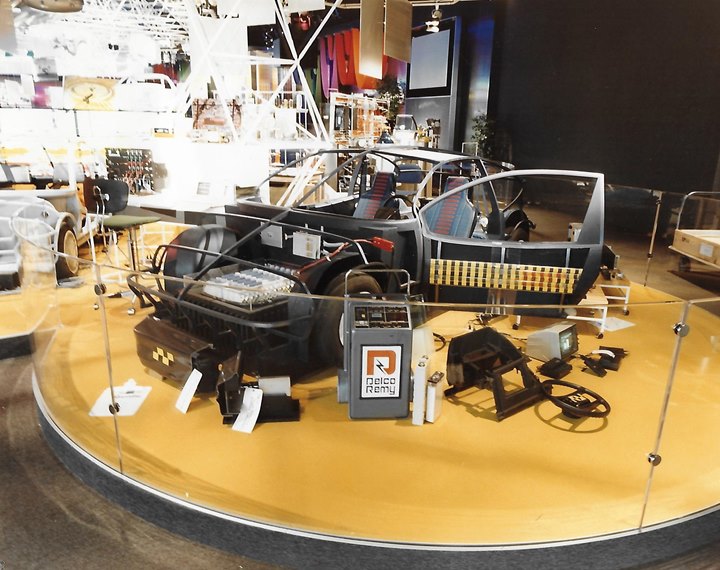 Fast forward almost 70 years to 1982. Delco-Remy had a display of zinc nickel batteries at the General Motors World of Motion pavilion at the Disney Epcot Center. Photo added 3-26-2019. Photo courtesy of Tom George.

The End of the Remy name!
In 2015, Borg-Warner bought Remy International Corporation. In late November 2016, the sign in front of the engineering and office headquarters building at the I-69 at the Pendleton, IN exit was changed from the Remy International Corp.

It no longer had



on it.
The name "Borg-Warner" replaced it. For 119 years, the name Remy was associated with a company which started and, for most of its years, was located in Anderson, IN. The Remy Electric Company, Delco-Remy, Delco-Remy America, and Remy International (Remy) have all carried the original Remy brothers' names, who founded the company so many years ago. That connection with the past is now gone!
May the Remy name rest in peace.
David D Jackson 11-30-2015
The Remy name may be gone, but the Delco-Remy name lives on!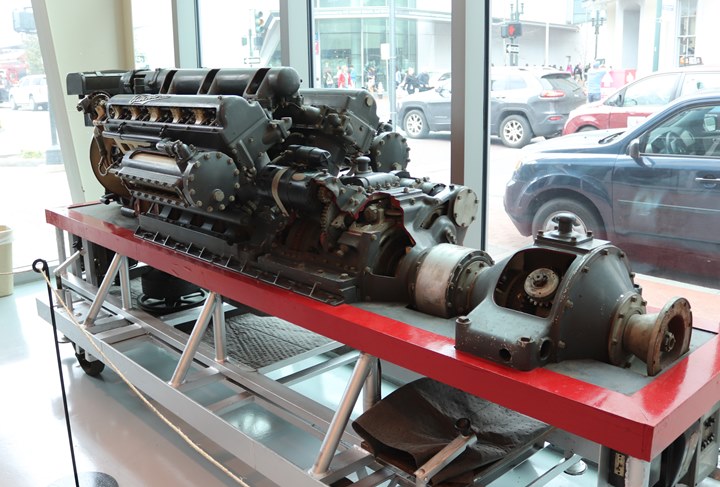 While the Remy name may have disappeared from the corporations, office buildings, and factories, Delco-Remy products are and will be on display at museums throughout the United States. The first display a visitor encounters when entering John E. Kushner Restoration Pavilion at the National WWII Museum in New Orleans, LA is this cutaway of a Packard 4M2500 marine engine. The Delco-Remy cranking motor on the engine is prominently visible from the entrance of the building. In September 2017 the National WWII Museum was ranked the Number 2 museum in both the USA and the world by TripAdvisor Traveler's Choice. Visitors from around the world see the Packard cutaway with its prominently displayed DR cranking motor. Author's photo added 3-28-2018.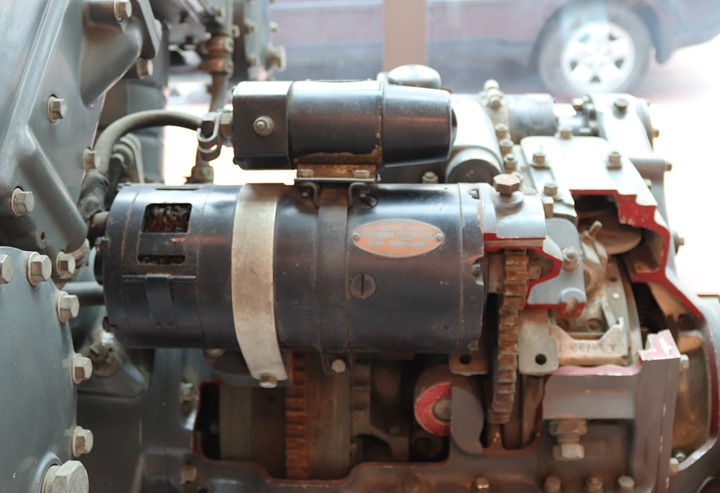 All the visitors that view the engine at one of the world's most visited museums will see the Delco-Remy naval starter and its distinctive oval DR tag. Author's photo added 3-28-2018.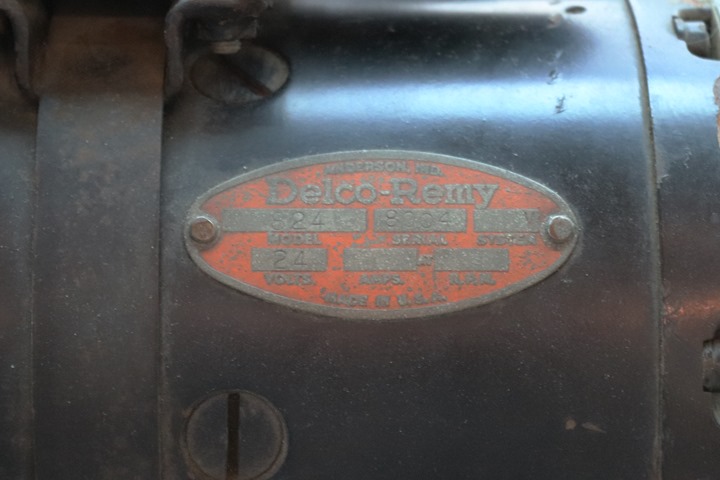 The starter is model 824 and has serial number 8904. Author's photo added 3-28-2018.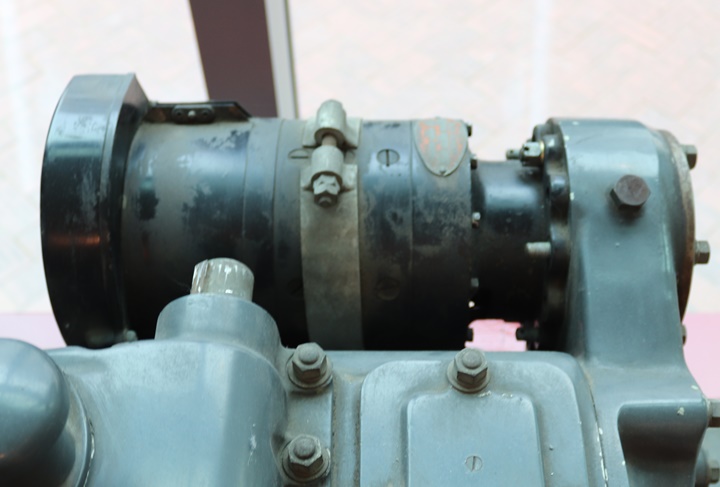 This Delco-Remy DC generator is located on the opposite side of the Packard engine. While not as easy to see, the DR tag is still identifiable. Author's photo added 3-28-2018.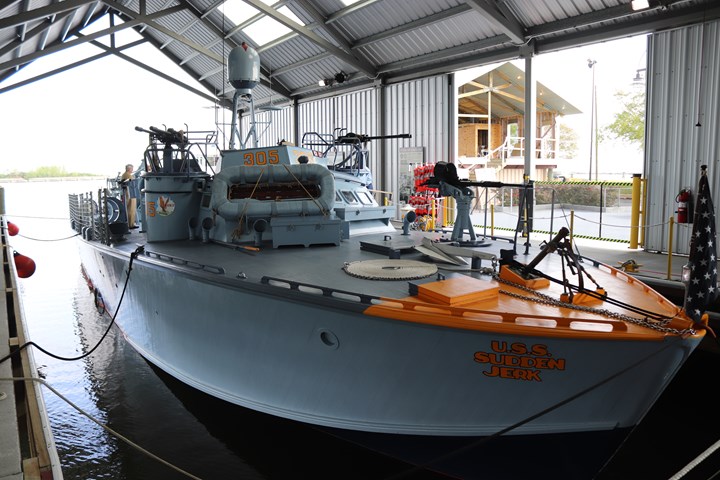 World War Two era Delco-Remy starters and DC generators do more than just sit on display at museums. They still start and provide electrical power to the three Packard 4M2500 1,500 hp marine engines in PT-305. Just like they did for the 745 PT boats built in WWII, the Delco-Remy electrical components continue to function as they did 75 years ago when PT-305 operated in the Mediterranean, completed 77 combat missions, assisted in two naval invasions, and sank three watercraft. PT-305 is the only operable Higgins-built PT boat combat veteran in the world. Instead of going on combat missions in the Mediterranean, it currently provides 45-minute rides on Lake Pontchartrain in New Orleans. The boat tours cannot begin until the DR cranking motors start the Packard engines! Author's photo added 3-28-2018.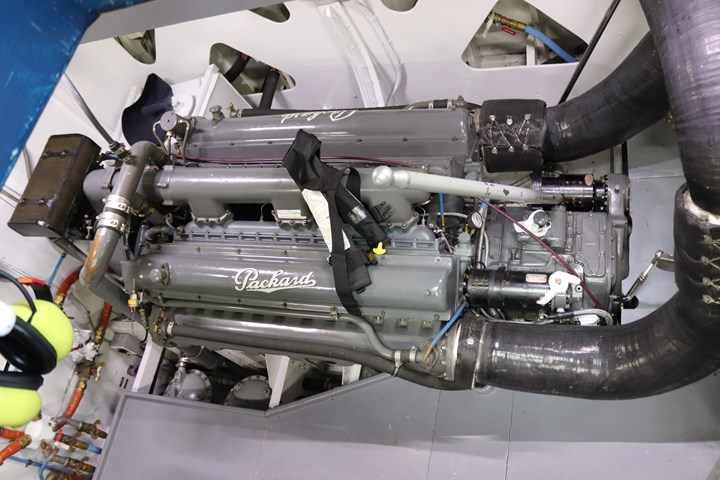 This is the starboard Packard 4M2500 engine in PT-305. The Delco-Remy cranking motor and DC generator are plainly visible from the deck. Author's photo added 3-28-2018.
This is a history of the former and great Delco-Remy Division of General Motors. It supplied electrical equipment components for millions of GM vehicles until 1994. For these cars and trucks, this process began with assuring the vehicle was in Park or Neutral. If not, the DR Neutral Start Backup Switch (NSBU) would not let the vehicle start. With that requirement met, the Delco Battery activated by D-R ignition switch, pulled in a D-R solenoid that energized a D-R starting motor to start the engine. To supply high tension to the spark plugs, a distributor with condenser and coil, or later a High Energy Ignition (HEI), would supply up to 20,000 volts. Once the engine was running, the Delco-Remy alternator, known for a long time as a Delcotron, would charge the Delco Battery and supply electrical power to different electrical components. If someone got in your way, you honked your Delco-Remy horn, activated by a D-R horn relay. When it was dark, you turned on your headlights; and, if necessary, the high beams with D-R switches. When it rained, a Delco-Remy wiper switch would activate the windshield wipers. If you needed to cool down or warm up, you turned on the A/C or heat, and a D-R vacuum actuated controller would open and close the necessary vents to get the conditioned air to you. These are just a few of the multitude of electrical components made by the former Delco-Remy over its 98-year history.
John Spears now has a Delco-Remy High Performance Ignition Systems Website. John's website includes many of the high-performance ignition systems from the 1960's and 1970's, and contains important historical information not found on this website.
David D Jackson 10-9-2016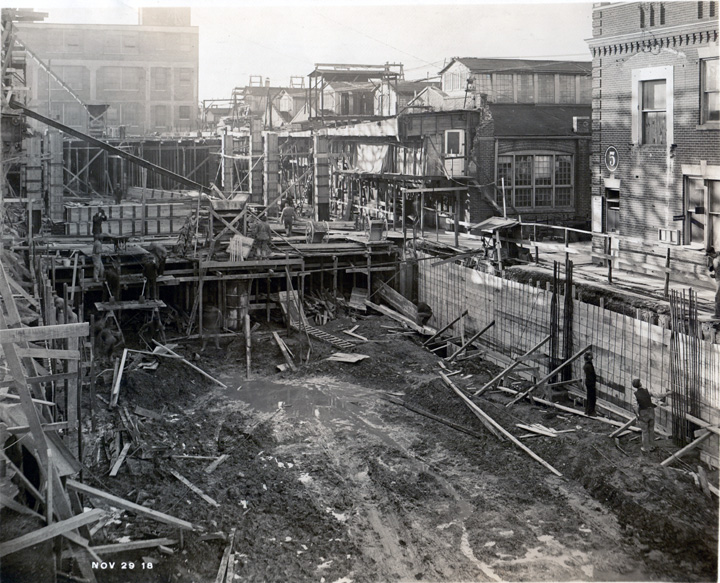 This photo was taken 11-29-1918 during the construction of Building 45, or what would be the front east end of Plant One, east of the middle stairway. The four-story Building 30 was completed in 1917 and is in the background. Building 5 on the right housed Schoolrooms 1-4 in later years. Photo courtesy of Bob Scharnowske.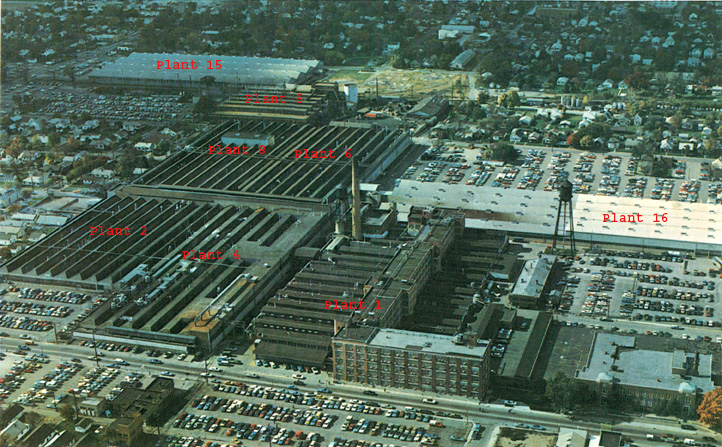 The Plant One or Columbus Avenue Complex was comprised of Plants 1, 2, 4, 5, 6, 8, 15 and 16 circa 1973. Today only Plants 15 and 16 survive. Plant 15 is again vacant. In 2011 ERTL Enterprises purchased Plant 16. As of 2017, ERTL Combustion, EPMC LLC, and 3B Construction Solutions, American Playground, IPM Machining, JDW Towing, Aqua Marine, and Ellis Enterprises were all tenants in the facility. The Plant 1, 2, and 4 areas are now soccer fields. Note in this photo that the color of the brick shows up in two shades of red on the front of Plant One. The more brownish toned brick is part of the original 1919 construction and the red tint is from the 1929 addition.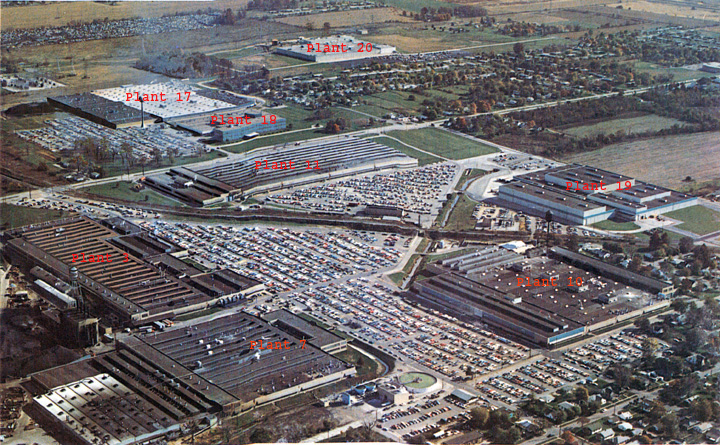 "The Acre" was comprised of Plants 3, 7, 10, 11, 17, 18, 19, 20 and water treatment plant circa 1973. Today only Plants 18, 19 and 20 still exist. Plant 20 is now owned by Sutong Tire Resources, a Chinese tire importer. The west end of Plant 19 burned in an arson fire several years ago after being purchased by AMACOR, a magnesium recycling facility. Magnesium makes for one intense fire! Plant 18, after being vacant since 2003, was purchased in 2008 by Hy-Tech Machining of Anderson for $425,000, which also included 22 acres of land. Hy-Tech's original intent was to utilize the lab area for its operations and tear down the three story building. However, in early 2010 Families Forever began operating in the front through the old Plant 18 lobby entrance. Families Forever has since moved out, and Plant 18 still stands due to legal and tax issues it is facing. It took considerable time for me to adjust to not seeing Plant 11 as I drove south on Scatterfield Road across the railroad tracks. It always dominated the west side of the road across from Plant 18.

When these two photos were taken in 1973, 17,501 persons were employed by Delco-Remy in Anderson. This corresponds with the Delco-Remy published number of 17,431 that were employed at DR Anderson in 1965. It is hard to see in the photos but the parking lots are filled with mostly General Motors cars, trucks, and vans. (The painted van craze was going on at the time.) While it is our intent not to go into the reasons for the demise of DR and GM, I have always wondered if the powers that be at GM ever realized that it had a huge built-in market for its vehicles in the component divisions in Anderson, and Kokomo, IN; Dayton and Warren, OH; Flint and Saginaw, MI; Rochester and Lockport, NY along with several other locations. Employees in many cases were buying new GM cars every year if not every few years, creating a large market for its vehicles. When GM decided it no longer needed the component divisions throughout the Midwest, the former employees and potential future employees had no further GM loyalty, when making their vehicle purchases. Just one of many reasons GM went bankrupt in 2009.
The Redevelopment of the former Delco-Remy Anderson Site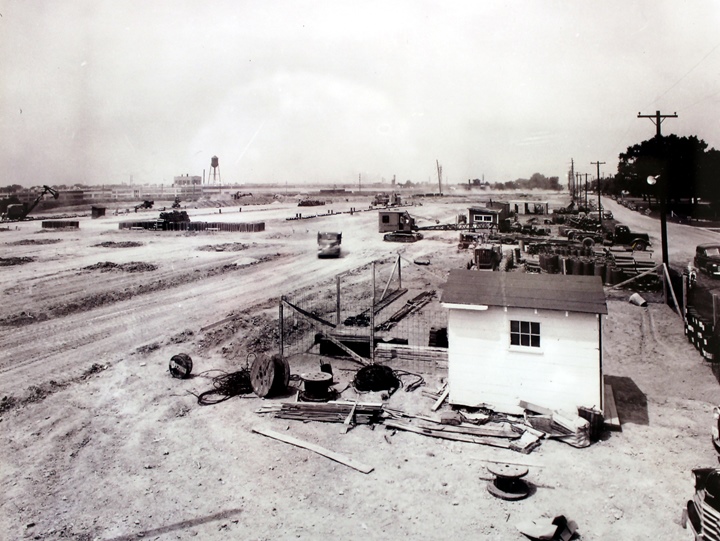 What a difference 70 years makes! This is Plant 11 looking north at the start of construction in 1952. Plant 11 was built to make jet engine parts for the Korean War. Note that Scatterfield Road along side the plant was a narrow two lane road. In the background, the Plant 3 Power Plant and water tower can be seen. Photo courtesy of the Madison County Historical Society added 2-10-2020.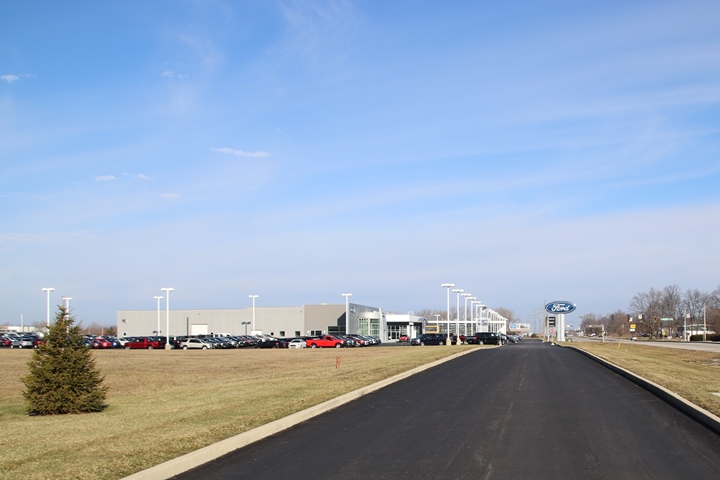 This is the same general area in 2020. A Ford dealership is at what used to be the south end of Plant 11. Author's photo added 2-10-2020.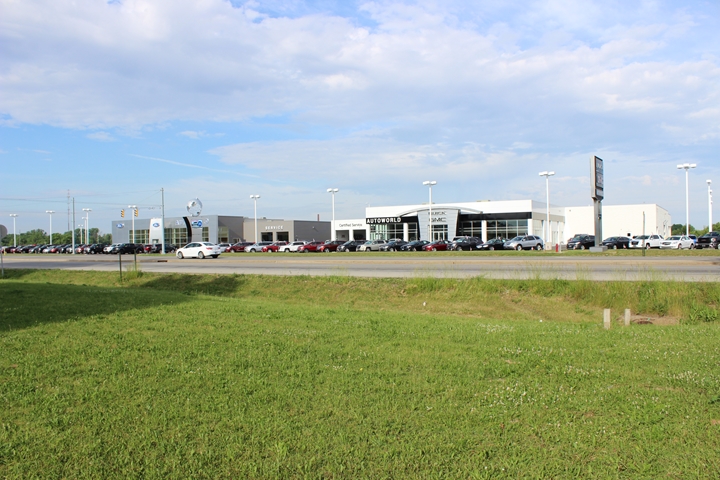 The former Plant 11 is now the location of Buick-GMC and Ford car dealerships. Author's photo added 6-8-2016.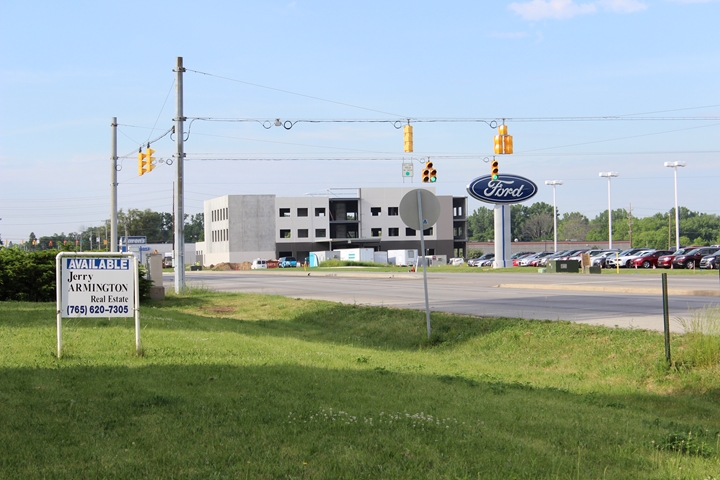 Community Hospital is constructing a new medical arts building in the south-east corner of The Acre. This area to the south of the former Plant 11 was always vacant when DR owned it. The for sale sign is for the former Plant 18 parking lot. Author's photo added 6-8-2016.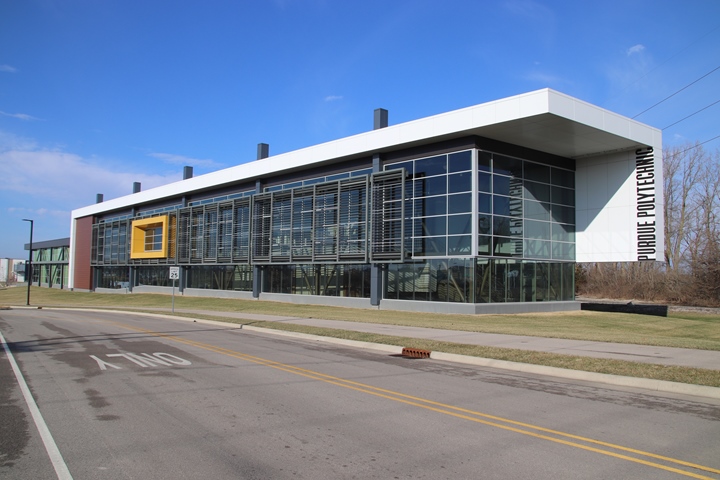 The east end of the former Plant 3 is the home of the Purdue Polytechnic Center in Anderson. Author's photo added 2-10-2020.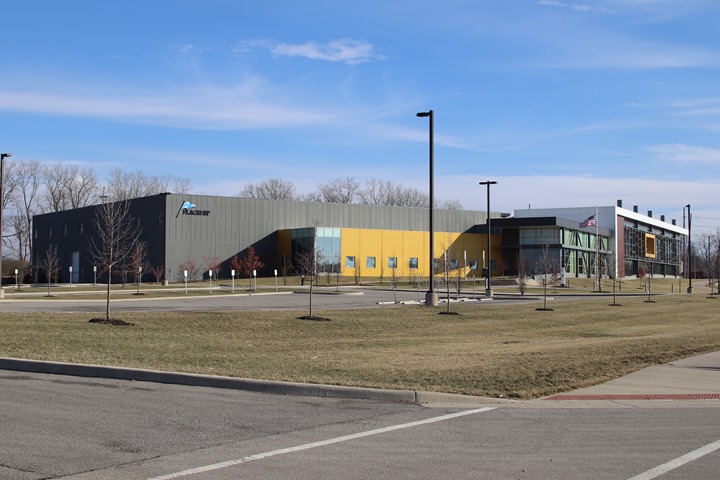 Author's photo added 2-10-2020.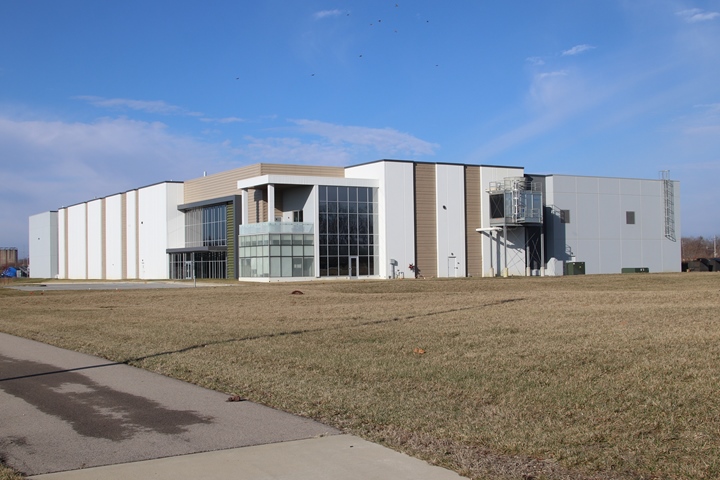 This building is located where Plant 7 used to be. While there is no name on the building, it is owned by Italpollina, which produces organic fertilizers and bio-stimulants. Author's photo added 2-10-2020.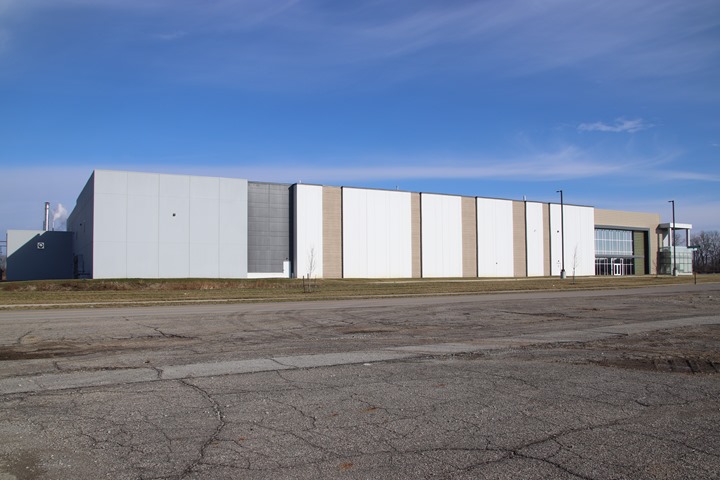 Author's photo added 2-10-2020.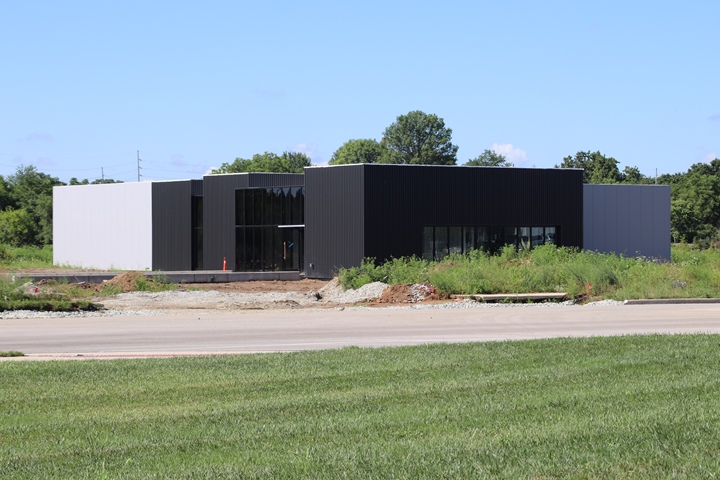 Construction on this new plant began at the beginning of 2020. This is the progress that had been made up to July 2020. Author's photo added 9-15-2020.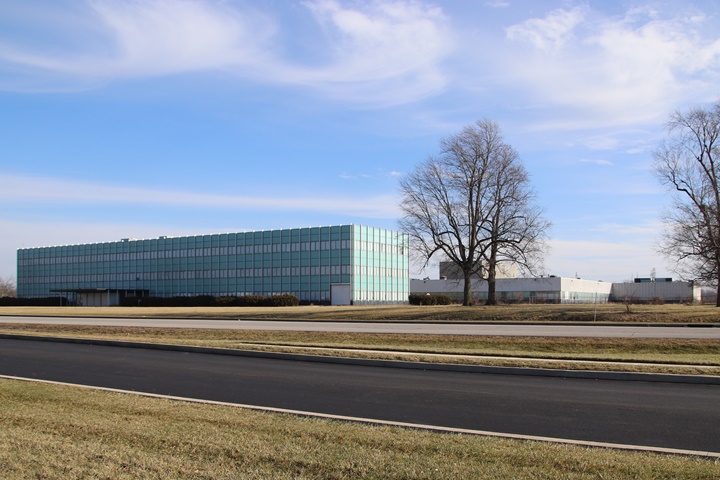 As of January 2020 Plant 18 is still standing. Ongoing legal and tax issues with the current owner are preventing the building from being purchased and subsequently razed by a developer. Author's photo added 2-10-2020.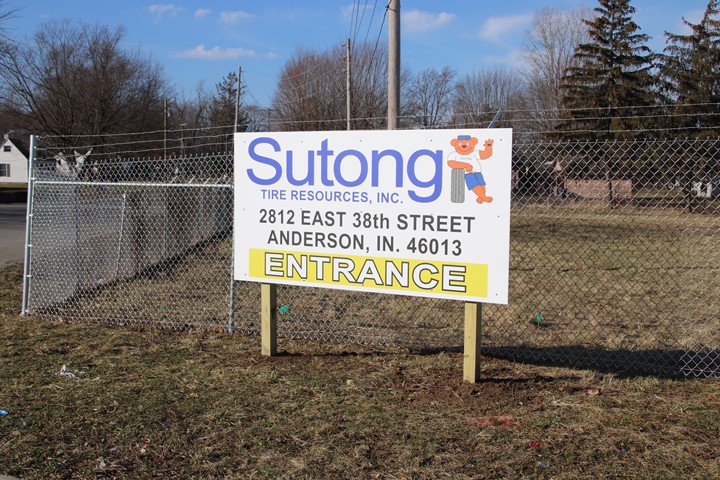 Plant 20 has had a new owner for several years. Sutong Tire Resources is a Chinese tire importer and Plant 20 is a distribution center for the company. Author's photo added 2-10-2020.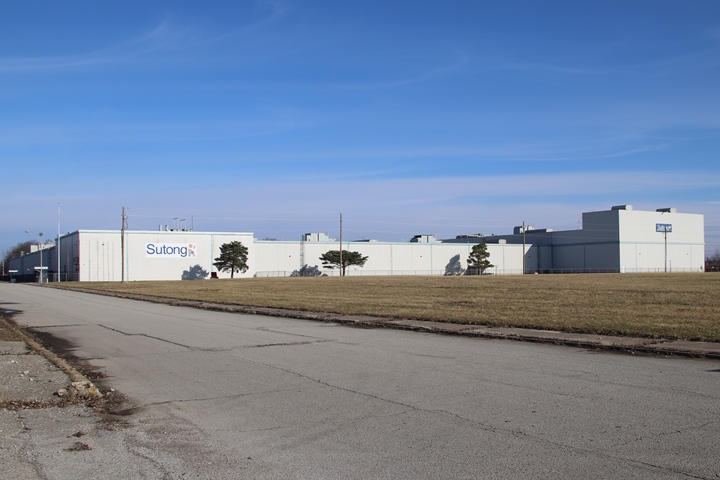 Author's photo added 2-10-2020.
Website last updated 3-22-2021.